20050428
my arm hurrts from volley!!
the blue-blacks. urgh. din realise
it will cause me to have so many blue-blacks.
rahhh! painful nia.


class outing tmr. lols.
dunnoe if i shld go. a bit weird larhs
one whole class, go town together.
hahahah! den they said, wanna play pool
den bring an extra shirt can le. budden the skirt?
lols. den someone suggested bowling too.


anyways, for PW, reckon my whole idea is wrong.
1st draft confirm rejected one. ARGH!
after all the time spent. and all efforts,
it's gonna come back to me. lols.
sickening sickening sickening. muhahahha.


thursdae's lessons are draggy.
i dun like the time table after lunch on thurs.
one n a half hr of GP lecture, den math lecture .
finally, one and a half hr of GP tutorial. rahhh!
but we alwaes get dismissed like 10-15 mins before time.
x) cuz the class is restless and the tchr's soft hearted.
muhahahahahahaahahha.
almost everyone thinks that the tchr looks cute. lols.
but me? i dun think he is.lols.
no offence reallie. sound like im damn picky. LOLS.


im off for now. . x)
love LOVE!
and life goes on
- 17:35
20050427
EUGENE!
see your big name? waste my space la. muhahhah.
wah! volley's gonna get tougher i heard.wth
hahahahah! circuit training and stuff. urgh.
muhahahah.


ran 2 rounds for pe and den did pull ups.
easy eh? nah, not for me though. lols.
cuz i cant do a damn pull up!! rahh,
well, maybe only 2. crap. haha.
so, it was break. den all gals cept some
from my class din wanna change outt.
muhahahha. in the end, walked into the LT
and got chased out by philip tan. muahahha.
physics test, gone case.
that stupid tchr keep standing in front of me!
i cant do work when there is someone staring at me.
rahhhh! gave him hints, but he slow la, din catch any.


4 hours of volley training aint helping either!
now my bone is pain.muhaahha.
eeeeeeeeeeeeeeks. thanks so much to
cheryl

and

shiting
[correct spell i hope]
they keep helping me during volley.
and cuz of me, i made the group suffer a lot.
sorry girls! thanks so much for all the help. =)


yay!! finally chatting to vanvan! x)
been a looong time. haha.


ciaoox.
and life goes on
- 18:55
20050426
a
-R-
G
-
H!
just coz i went home late once
o
-n
-C
-
E
!
and my grandma gets all argh, i dunno wad to sae. calling and checking on me is aRGH! why issit alwaes me?
i just dun understand! hell larhs. argh argh!
i hate this!!!!!! irritataing.unfairness.!
why dun they check on my cousin instead of me.
why issit
alwaes
me
?!?!?!
maybe cuz im not vocal enough.
maybe cuz i cant seem to get anyone's trust.
but above all. i fell, it's
cuz im the most stupid amongst all my cousins.
that's why. im alwaes the worst, i admit it.
BUT STILL, i need my free time. i need the personal time.
dun we all deserve it??! a-r-g-h.
aiights , actually i had more pleasant things to blog.
but after that stupid phonecall,
i lost all modd for anything.
im off.
physics test tmr. wish me luck. cuz im so gonna flunk it.


and life goes on
- 19:13
20050424
i hate project work lah!
it's driving me crazy! rahh!!!!!!!!!!!
we're only getting our groups on 20th may.
it's still friggin 1 month or less away.
argh argh argh argh argh!!!!!


went over to

jean's

place this morn at 9
to get our econs presentation done.
together with

zhijia

and

jihui

.
condos these days are small. hmms.
i only like the swimming pool. x)
i felt as though i was walking to a chalet.
after we finished, went down to compass with

jiuhi

.
as in literally down.hahaha. cuz

jean

stays at compass heights.
lunched and den off to the library to discuss

jihui's

pw.
ended up talking bout pets. lols. nonsense.


i shall be off now.
my darling "hwk" is calling me.
peeping at me. rahh!!


sometimes i wonder if i make the correct decisions.i so ruin my own life. =(
and life goes on
- 18:31
20050422
ahh yess, i forgot to mention i saw shit on the toilet floor.
stupid people really. cant aim properly?!
disgusting larhs.
and life goes on
- 23:38
school ended at 1!!!!!! yay!! x)
so,

jo.ma

n

finally withdrew from srjc totally.
lols. she was supposed to get it done last week.
but she only completed it todae .lols.
over the phone just now she happily said
"im outta this school already. "
haha. i cant help but feel like wanting to slap her.


went to meet my bestest fren just now.x)
she's sucha a darling larhs.
=) =) =) =)
we were mad larhs. writting our names and some mushy stuff
on our hands,on my foolscap paper cardboard. on tissue.
on the coffee bean serviette too. lols.
and doing other things which i dun remember.
totally mad larhs. but i like it. x)


aiights, so i had pe todae. sucks la!
actually, i think my class damn lucky already.
we ran 4 rounds ard the track. and we had to complete
it in 11 minutes. rahh.it was shit for me.
cuz i dun have stamina, after not training for so long.
but i managed to complete. -beams-
but i din make it within the time limit. =(
i was a minute late. shucks. 12 mins.
ahh wells, i have the guys to thank for my timing.
they were cheering me on everytime i ran past them. =)
ppl from my class and ppl from my og
whom i thought din noe i exsisted. haha.
THANKS GUYS for the cheering!!!
i hope they will be there to cheer me on the actual dae. lols.
after the running, had to do sit-ups.uggh.
hot and sticky and backs wet, hafta lie down on the mat. ugghs.


oh yea! i hate the material used to make the uniform
and the pe shirt!!! cannot absorb water one.
and so all the prespiration will be trickling down ur back.
uggggh!!!!! i hope we can get the new design
for the pe shirt soon!!only den will we be able to change
the pe shirt!! whee~ hopefully by this yr. =)
volunteers to design? muhahahaha.


aiights! it's time to smell good. muhahahha.
then to be a good girl. x)


i love my dearie. =) [ahem, it's all in purple.x)]
california's a damn nice song! x)
and life goes on
- 17:31
20050421
aiights. i'll be a nice person and update. x)
school's been ok. cept for all the tutorials. boo.
i dun even listen in lectures. esp math. cuz the tchr's supa boring!
she cant get my attention. she never will i guess. muhahaha.
but i do like my relief gp tchr.
why does my class alwaes get nice relief tchrs and
then, next lesson, our tchr comes back and we go, ugh.


boo. im sucha a slacker. hmwk go school copy and all.
teacher ask qn i go " huh? "
i wonder wad i am doing in a jc sia.
but i dun like the wae poly is also.
ahh wells. x)


ooh la la. there's pe tmr. reckon the tchr's gonna faint
from seeing my weight. muhahaha.
if im fat, im fat larhs. weda i accept it or not.


noe how i recognise ppl from volley?
muhahahah. i stare at them till they notice me and den i go
"you from volley right? im sorry i dunnoe ur name."
crap la! but they're nice ppl. x)
except for ppl i dun like larhs


aniwaes, i just got back not long from kovan. bk. lols.
was laughing like crap together with brin and lydia.
lydia laughs at everything! so that infected me.
muhahahhaha. ppl would think we 3 escaped from IMH.
wore srjc uni and sit in bk, examine ppl and laugh at them.
mind you, it is laughing AT them, not WITH them.
muahhahahaa.laughed till my stomach ached. lols.
ppl! if u wana laugh, please call me and i'll get lydia and we'll meet you.
bwhahahhaha. aiights,
im being very nonsensical here.


ciaoox. love!!


and life goes on
- 18:55
20050415
yay! econs and physics was cancelled! yay! meaning school ended at 1.45 for me.
that's early. =D. stayed till 3.30 like that. together with
kat
and later,
brin.
cuz
eileen
wan ppl accompany her till netball start la.
went to kovan.thanks to
kat
huh? sae hate ps-er.but den...... ahem. someone oso ps
brin
and i right? lols. best la she.
kovan's so gonna be the hangout. rahh. other than that, there is only compass. lols.
like i not sian of these places. ahh wells.


went sakae. laughed like crap. thanks
brin!
LOLs!
i shan't elaborate. but it was damn funny la. was laughing so much my sides ached.
wahahahaha. ate, ehh, 30 plates. mann. means dinner,breakfast and lunch no need eat le. lols.
walked a while to digest the food. haha. den went to compass.
brin
deposited $$. yupps.
i bought smth. den went to kfc to get dinner for
brin's
bro.
passed by captain's and saw
wanlin
,
victor
,
rachel
and another girl studying.
mann. i feel damn slack sia. must study le lah. rahh!


aiights. please take care everyone. till the next time i blog! x)


[
kat!
i wanna hear qing tian again!! whee. go learn more songs and play for me. lols]
and life goes on
- 19:24
20050413
actually, 1S24 ain't that bad after all.
had this thing called "team exellence camp" [TEC] todae.
had so many games. =)
ice breakers.games to help our class bond together etc.
had so much fun. x) teehee.
whee.and cheered a lot todae. lols. crap la.


the sad thing is that the class is damn quiet.
argh! the girls quiet! the guys, talk amongst themselves.
1S24 is soo not united and soo not coordinated and damn quiet.
ahhhhhhhhhhhhhhh!!!!!!!!!!!!!!!!
this guy actually mentioned that he doesn't like talking.
-______-"""""""""""
helloe boy, yes, i called u boy cuz u need to grow up.
how can anyone survive without talking?
and you introduce yourself as someone nice. haaaa!!
i dunnoe how im gonna survive. damn. someone save me!!!!
i dun wan quiet ppl for friends . but i have to
i seriously dunno how im gonna fit in/like my class.siggh.
perhaps only those few..


after everything ended.
the

orion

house ppl supposed to stay back.
and i was just staring into space.
and this guy said.
"yess? you wan my autograph issit? "
-____-
if he was some eyecandy or something, maybe
but OMG. he's the toot kind.
wad is the world turning into?!
all the bhbs and super thick skin ppl! haha!


and

j

iawen

just borrowed an umbrella from me. hoho.


lalala. there's this guy who added me on msn months ago .
and i finally saw him online last night.
and guess wad?
he's spanish. asking things all in spanish.
and so i typed "english? "
and he replied "no espanol?"
wow. and i tot english was supposed to be the "universal language"
the language everyone's supposed to noe at least the basic. haha!


im talking loads of nonsense todae la.
all the crap. wahaha.
and i think im turning into such a bitch.
commenting on ppl's guy and stuff. oops!
and life goes on
- 17:20
20050412
met
brin
after lecture at compass yesterdae.
and
rachel
and
maria
supposed to meet too, at 5-5 plus,
they ended up coming at close to 6! whahaha. forgiven la.
but i had to leave soon. lol.
while waiting for them to arrive,
brin
and i went to captain's.
and i happily wrote things
brin
hmm, wishes was true. but she's denying.
er. am i talking sense? wadever. lols . so that's ydae. yay!
went ta heartland with
brin
and
joanna
todae.
joanna
left after lunch..
had so much fun in the neoprint machine with
brin
? wahahah.
that's kinda dumb. the photos were how shld i sae,
funny. it reflects how we acted under pressure. wahahah.
only
brin
and i noe. LOL! damn hilarious! cartoon la.
ended school so early, at 1. lols.
supposed to go to town. everyone cun make it.
therefore
brin
and i ended up in hrtland. when we got sick of it,
we went ta compass. Lmao. crap la.haha.
oh ya, saw
huijia
!! hehe. so long le. finally . haha. xp
hooray.
brin's
trying to get me to join councillor. LMAO.
i reckon i'll just fail it at the 1st interview? or maybe i wun even make it. lols.
sometimes, i wonder why i get friends.
it's like i get "good" friends or rather friends i can get along with pretty well
and boom. there they are.
im so freaking angry/confused/sad.
sometimes, i just wish i din have friends.
i wish maybe that god din give me these friends.
why issit i alwaes make friends and end up ____ losing them .
argh! i hate this!! freaking hell.
this ain't helping at all. hate it!
and life goes on
- 23:25
20050408
yay!! it's nearing the weekends again!! whew.
wore the sr uni todae. so not used to it.
kept going, where's my belt? hahahah.


was boring in the morning.
lol. break.den pe.den break from 9.15- 11.30.
roar. the school shld do smth bout this la. alwaes break for so damn long!
yesterdae, i had a break from 9.15 till 1. freaking bored. ahh wells


attended lectures todae.den dunno do wad.yawn.
stayed back after school to accompany
kat
. together wid
eileen.
stayed till 6? lol. dunno wad we were doing.
victor
,
eileen
and i tricked kat.
i was a lousy actor. wadever,hahahah!
we hid
kat's
phone. den ya... haa. so evil. lol.
den, went gallery, sit and talk, den look at ppl having cca.
canoe damn hiong sia! thank goodness i din join. haha.
den, walked over to see
wanlin
play bball.
that
victor
damn evil sia.
said "look for the shortest" can le. tsk. haha.
den
victor
and
kat
walked eileen and i out.
they went back for band. haa.


oooh! the pope's funeral was todae.
bless his soul.


waiting fo my parents to come back. lol.
i feel like watching samara! hoho.
and life goes on
- 23:56
20050405
so, got my class tdoae. im in 1S24. damn!
none of my friend's in this class! DAMN!
eileen, katrina, sharon, in 1S25.
joanna in 1S23. why do they have to split! damn! damn! damn!


cruel! cruel! cruel! argh.
it's like u get to noe some nice friends and boom, they're gone.
damn. i dun like this!! not a single bit! damn damn damn!
i looked pissed after knowing which class i went to. [

according to eileen

].
ahhhhh! damn everything now la! cries
HAPPY BIRTHDAY SAFY AND QINNING! besh wishes girls!
and life goes on
- 17:22
20050404
my eye lids are heavy. and it's only the start of the week. HAHA!
on the phone last night with qinning, actually called to ask smth,
in the end, dunno talk bout wad, talk till 11 plus. 11.40 i think. hahhaha.


suprisingly, i managed to wake up relatively earlier. hahah!
earlier than usual at least. hahhaah.
yawwwn. GP early in the morning is not advisible!
the tchr's tone was monotonous. almost fell aslp if not for the fact
there were tchrs behind.roar!
and 2 periods of math c and 1 period of math make up lesson is horrible!
todae's a cold dae. haha. and especially so when u're in a lecture theatre and it
starts raining. brrrrr.LT5 LT5 HAHA.


anyone can help me do a new template ? Hahahah. a simple one.
this template is so er, not nice already. roar.


everybody, let's pray for the pope pleasse.
that his soul rest in peace.



//hurry!i want my class!but im missing my og now!argh.wad the hell am i feelin' \\
dang ni by cyndi wang is stuck in my head now! hoho.
there's a wonderful feeling that runs through me everytime i look at you, and i dun noe wad to do cause i dun wan a repeat of the past, something's telling me the time just isn't right at all, but
i love you so.
-i like these line. haha.
and life goes on
- 17:03
20050403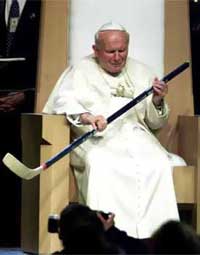 pope and his hockey stick!

and life goes on
- 15:38
pope makes a face. so cute!

and life goes on
- 15:38
i love the pope.
his time is up and it's actually a blessing to him cuz he no longer has to suffer .
the numerous things he has done.
the wonders he worked.
the number of ppl who actually love him so.
those who kept vigil.
i wonder whether the new pope is gonna be a good leader.
i hope he is.
anyway, cnn's coverage of the pope and the vatican city is great.
and life goes on
- 15:27